Posted by Jon - 26 May 2017
We were delighted recently, to hear from two old friends of Jon Dibben Jewellery. Over the years they have had various pieces, including a commission for their 50th wedding anniversary. Time really does fly as this time they wanted to create something special to celebrate their 60th wedding anniversary in July.
Traditionally diamonds are used to celebrate 60 years of wedded bliss, but Mrs M was adamant she didn't want diamonds. Their 50th wedding anniversary piece had been a stunning eternity ring, with sapphires studded along the length of the band. This time she was interested in having emeralds, in a style that would complement the previous piece. They looked at some of Jon's beautiful 5-stone, end-set eternity rings that we had in stock that were in keeping with her sapphire ring, but with an updated feel.
We then discussed the merits and pitfalls of emeralds. While this stone is a beautiful rich green, it is not incredibly hard-wearing and is prone to breakage therefore it is not a gem we would recommend for regular wear. On the other hand Tsavorite, from the garnet family, offers a brighter green hue and added durability. In particular it lends itself to faceting for added brilliance and sparkle.
This gem was only discovered in 1967 in Tanzania and was relatively unknown until Tiffany & Co decided to market it as a new stone in 1974.
Jon sourced 5 matching Tsavorites from one of our trusted stone guys, which were then end-set into 18ct yellow gold, to create a sparkling band of gold and green! Mr M requested a special engraving for the ring. So, hidden beneath the band of gems, Mrs M was delighted to find her name inscribed followed by a heart. Just goes to show that romance isn't dead!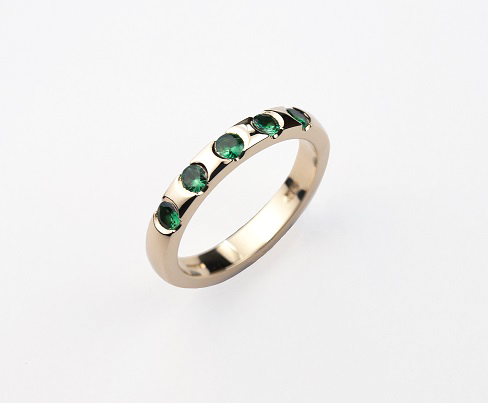 The finished ring is now ready for Mr M to present to Mrs M on their wedding anniversary in July. They intend to gather with their family for a day spent meandering up the River Wey on a canal boat. We would like to offer them our congratulations and best wishes as they celebrate this milestone.
One final note regarding Tsavorites – they are 200 times rarer than emeralds BUT cost, on average, 25% less. If you'd like to see some of these beautiful stones up close we currently have some in stock in the shop at Smithbrook Kilns and we'd be happy to show them to you.
See you soon
Tess