Posted by Jon - 28 June 2016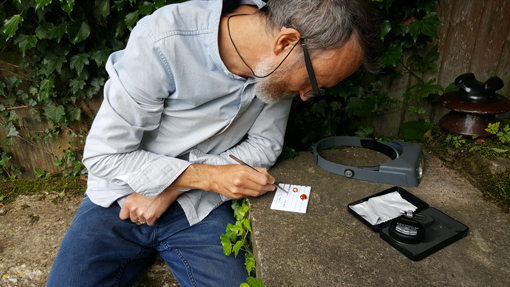 Jon in his garden office.
Now I know this looks all staged and poncy, an image for the Instagram, face tube world of social media. But I was actually perched here this morning, when my wife took this snap. You see natural daylight, shaded, definitely not direct sunlight is about as good as you can get to judge the true colour of stones, and how they match to eachother.
It was also an opportunity to spend some time getting to know the stones, to see which ones look good faceup, and which ones retain their colour and brilliance when placed at a slight angle. You see I've carried round this design for a new Meadow ring for a few years now, and it's been driving me mad. I can see the design in my head, and it looks pretty damn fine up there, but we have just been too busy and I've just been too side tracked to knuckle down and get it out. Till today! It's got to happen now, it's so autumny, that if we don't start right now, we won't get it ready to photograph and show off at the end of the summer.
So I guess if this is the first part, and I'm going to take you along on the process of getting this ring designed and made, then there will be some call for the very seeds of the design - the inspiration.
If there is a muse for this piece, it's actually the main stone. A fantastic 8.19ct cushion cut Orange sapphire from Sri Lanka. I really loved this stone the first time I saw it, and that hasn't changed. I have talked a few times about the way the design comes in. It often happens quickly and instinctively, almost taking shape as I watch. I've never been one of those designers that wander around, almost looking for a start - 'Ah architecture... I will design a collection based on roman architecture'. I guess I am more reactive, relating to the stones I see, and the ideas that just come floating in an effortless way. Some might call it lazy.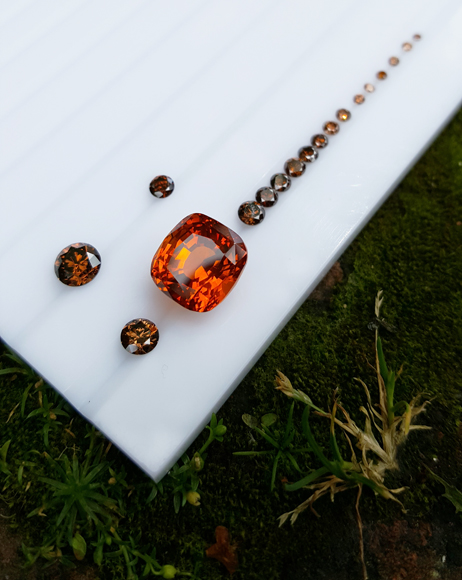 The final edit.
This was very much what happened with this stone and this Meadow ring. I have some very early sketches somewhere, that capture the feel of this new design. I never aim to draw it up perfectly at this stage, they are just visual reminders of what I want the design to look like. I will show you them in part 2, and talk about the next stage, which will involve mocking up the feel of the ring, using the natural brown and orange diamonds that have made the final edit. I warn you, there will be blue tack involved!
Look forward to waffling on about that soon,
Thanks for reading,
Jon