Posted by Rachel - 16 August 2011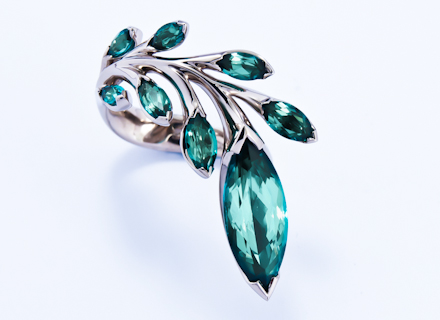 We are proud to present our first ring made in 18ct white Fairtrade and Fairmined gold. It uses metal from the very first batch of certified gold to enter the country, originating from the Cotapata mining co-operative in Bolivia. The ring has been marked by the London Assay Office with the dual Fairtrade and Fairmined stamps, along with the traditional UK hallmarks.
It is set with eight, rare, sea-green Tourmalines from Nigeria, marquise cut in graduating sizes. The largest is 4.24 carats and nestles between the middle and ring finger.
Jon explains: "It was a design that had been slowly shaping in my mind since finding the main stone- the timings just seemed right to make this our first ring in this very precious metal. I'm really happy with it. For such a strong design, it still looks very beautiful and feminine when worn"
See more images of this and other designs on our Fair trade page.