Posted by Jon - 03 January 2018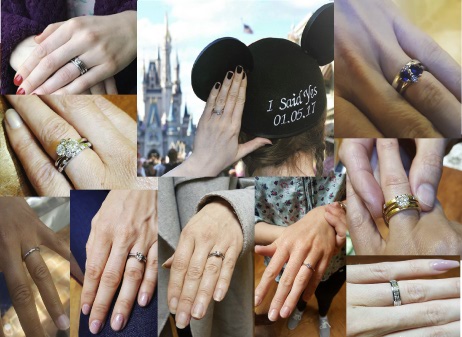 We are very lucky to meet people at a special time in their lives. Whether it's the engagement ring, wedding bands or the eternity ring it is always lovely to see the ring in its rightful place. 
Some of the occasions have been particularly memorable;
The lab-grown, ethical diamond ring that flew all the way to Disney World before the 'down on one knee' moment in spectacular Disney style. 
The brave man in Switzerland, who we only met via Skype while Jon designed his surprise engagement ring.  We didn't get to meet him in person until he bought his bride-to-be to the UK for us to make their wedding bands.
And who could forget the cunning chap who roped in his intended's family.  She thought she was visiting us to help look for a ring for her sister when unbeknown to her, she was actually choosing her own engagement ring!
Who wouldn't love our job and of course, if you are looking for that perfect ring (or know someone who doesn't know it yet!) we are here to help with that search whether in person or even via Skype!
Tess