Posted by Jon - 23 October 2019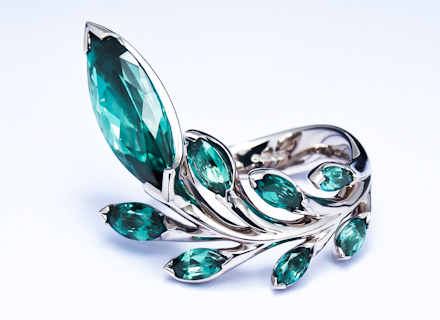 This week we've been focussing on Fairtrade UK's 25th Birthday, and thinking back to the very beginning of Jon's involvement in the launch of Fairtrade gold. It was an exciting time. Jon already had an interest in ethical sourcing, as well as an awareness of the darker issues involved in global gold and gemstone mining, so when he was asked if he would like to be involved in launching Fairtrade gold, he jumped at the chance.
In his designs, it's clear to everyone that he finds much of his inspiration in nature. He has a love of being outdoors, which prompted the travels of his youth and remains in his love of surfing, snowboarding or just walking, and as with many of us who value the beauty of the natural world, Jon feels the urge to help support and preserve it.
He's also acutely aware that precious jewellery is often given and worn with very personal, tender feelings. As he was quoted as saying in an article about Fairtrade gold:
'Our jewellery symbolises love and commitment, so we feel strongly that every aspect of its creation should have time, care and integrity.'
For Jon, knowing – personally – that the materials he uses are ethically sourced, and being able to reassure his customers, is a big part of the whole ethos of his company.
When the world's very first batch of Fairtrade gold arrived in the UK – the first country to launch it – and Jon finally had the parcel in his hand, he already had the first design for it in his mind. The now iconic 'Spray Ring' went on to be chosen by the British Jewellers' Association for their 125thanniversary exhibition, to represent 2011 – the landmark birth year of Fairtrade gold.