Posted by Jon - 17 September 2013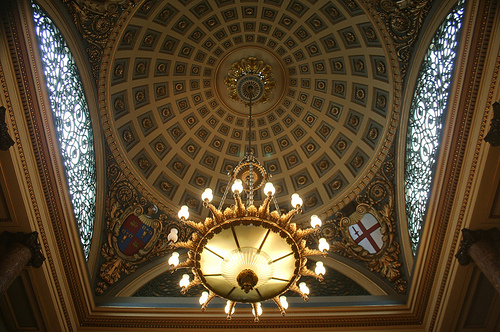 Goldsmiths' Fair is coming up again, and we're happy to say that Jon has been selected to exhibit for a second year. The fair is held in the palatial setting of Goldsmiths' Hall, which in itself is a good reason to visit, and adds extra inspiration to the vibrant atmosphere that the exhibition generates. In this one exclusive setting, over two weeks, are gathered 180 of the UK's most skilled and original independent designer-makers. It's now viewed as one of the most important exhibitions of its kind in Europe, drawing collectors from around the world.
The fair is open to the public, with work being available for purchase, 7 days a week, from the 23rd of September to the 6th of October.
Jon will be exhibiting during week one of the fortnight, with a distinctive collection including his key Fairtrade pieces to date.
Dates for Goldsmiths' Fair 2013
Week One: Monday, September 23 to Sunday, September 29
Week Two: Tuesday, October 1 to Sunday, October 6
NB. Closed Monday September 30 for change-over of exhibitors.
Times: 11am to 7.00pm Monday to Friday, 10am to 6.oopm Saturday and Sunday
Last entries half an hour prior to closing time.
Goldsmiths' Hall is in Foster Lane, very close to St Paul's catherdral. The nearest tubes are St Paul's, Mansion House and Barbican.
Please click here for a map.
We have a number of complimentary tickets to offer to those on our email mailing list or who have liked our facebook page, so if you would like to visit Goldsmiths' Fair, send us a quick email requesting tickets. Tickets will be allocated on a first come first served basis. The offer is open to newcomers, so If you haven't yet added yourself to either option, you can sign up to our email mailing list here or visit our Facebook page here, but please remember to send us a quick email to express your interest in tickets.
We look forward to hearing from you