Posted by Jon - 24 June 2016
I mentioned previously that I would return to Jane's ring, and talk a bit more about the process of 'remodelling' or 'reinventing' pieces of jewellery that are inherited, or that are just not worn or don't feel right anymore. I guess a lot of what I am about to say is also relevant to bespoke commissions, but this particular piece had a specific starting point.
Jane and Paul have always been close to my heart, because Paul bought Jane a super fantastic dress ring from us some time ago. I'm afraid that I really do remember the amazing key pieces, and who owns them. It's almost like we have joint custody of a baby (my baby)! In my mind, they are just looking after them, but I usually have visiting rights, from time to time, when these pieces come back for a check over and spruce up.
So, anyway, I was over the moon when Jane wanted to remodel her engagement and eternity ring. In her own words, 'I loved the idea of updating my engagement ring (better idea than updating my husband as quite a few of my friends are doing!!!!) and I found that I didn't really wear my eternity ring, so I felt it was a waste...'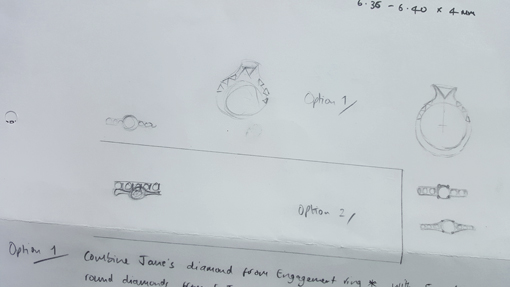 Doodles from the first meeting.
The beginning of this process is always really nice. We sit in the shop, drink tea, they talk, I listen, I talk, they listen, and we get a direction. I usually find the kernel of the idea, even the design, comes rushing in quite quickly. It's the easy bit, the instinctive part of the process. I can safely say that the idea I had float into my head, during that first meeting, was entirely and completely the ring we made Jane.
It was actually quite straightforward. We almost amalgamated 3 parts of 3 of our designs, all elements that Jane liked, into a new generation super bling ring. It comes back to the listening and understanding. It's often a bit like therapy, helping them realise what it is they actually want.
Jane however, was the best of customers. One of those that you realise have absolute faith in you as a designer. It feels silmutaneously a great honour that they put their trust in you, but also a terrible pressure - you have to get it right! 
If we are lucky and the client likes what they are hearing, we are then free to go off and make the design work. I think I have said this before - alot! But this is actually where the hard work of bespoke starts. It's the coal face stage, and although the physical making of a piece that you haven't made before can be equally challenging, by that stage you are at least in the flow.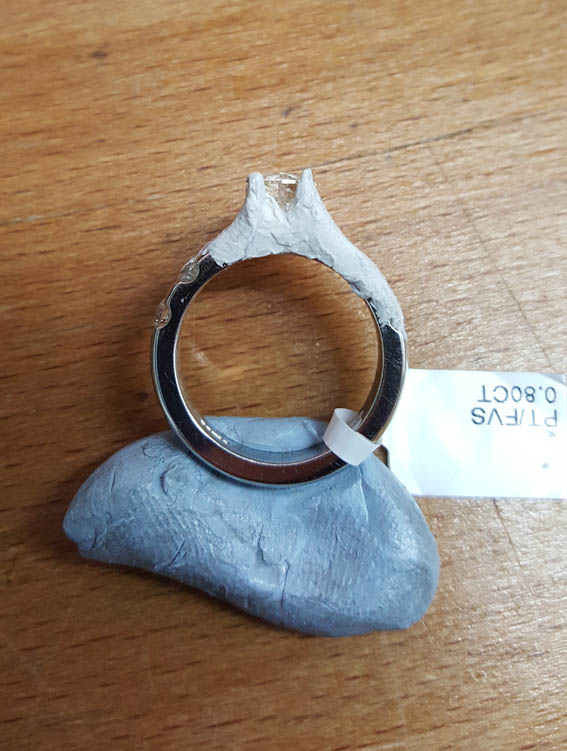 Getting the all important height right.
Translating a design from initial idea to 3D ring is a mission. We have to wrestle with a lot of decisions to get the balance between aesthetics, strength, and stone safety correct. A lot of tricky compromises, because sometimes it can't look how you want it to from every angle. However, we have been doing this for sometime, and we have honed our skills from years of designing one off pieces. It's also where the blue tack comes in, see previous Facebook post!
We show the customer whatever we feel seems relevant to get the design across. Sometimes it's sketches, but most often it's computer visuals (Hooray for Hannah and her CAD skills). These allow a client to see all the views that we've worked so hard to make right. They can even come into the workshop, and 'fly' around the design on screen. It really helps them have confidence in what they are going to get at the end of the process.
There are usually questions, and feedback, which sometimes leads to tweaks, and a second round of visuals. The next stage is to actually make the ring, and, looking at the time, that will have to be another blog. I might well ask Chris to join in, as he wrestled with the setting of this ring!
Jane obviously adores her ring - again in her own words, 'I absolutely love the new ring and wear it all the time. It is absolutely stunning and so special to me and I couldn't be happier with the results.'
Hooray! Everyone is happy - Jane gets her ring, we live to design another day, and all is good in Jon world!
Let me know whether I should put the kettle on, ready to discuss your design project?
Thanks for reading!
Jon