Posted by Jon - 27 May 2016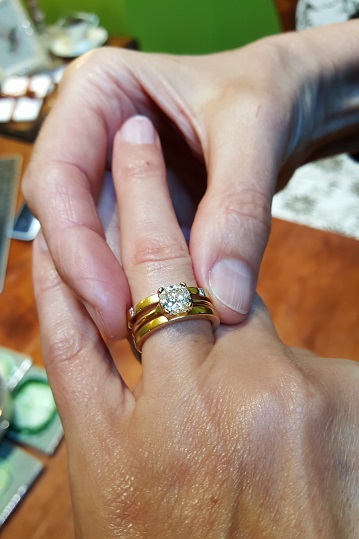 A 1.67ct cushion cut Four claw ring completes the set!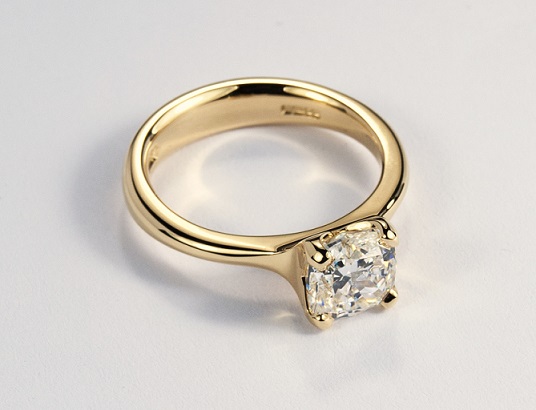 Increasingly, we are having couples arriving on our doorstop, wanting to upgrade, re-model or even search out that elusive engagement ring. Many are lovely, loyal people, who have bought from us, or we have made pieces for over the years, but either didn't know about us, or we weren't here, when they got married. They are not newly weds, but those that have weathered the storms, and enjoyed the sunny periods of marriage, and are now looking for a fresh token to honour the years spent together.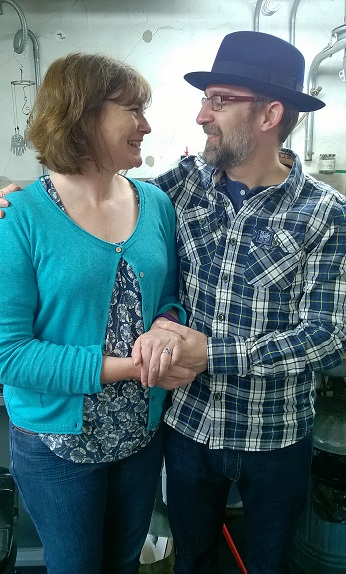 A beautiful sapphire floral ring marked this couple's story.
What they commit to can often be big budget, but it isn't a regular spend. It's not part of an extravagent jewellery buying pattern, but hard earned - longed for or dreamed of while other priorities had their moment - a special ring to celebrate their time together.
The process usually starts with a pot of tea and a heart-to-heart. This part of the process is where the listening happens - part jewellery designer, part counsellor! One has to tread a fine line, you see, because people have differing levels of sentimentality, or superstition – from those who won't take their wedding ring off under any circumstances, to others who would happily throw the old rings in a drawer and never see them again, if it meant a shiny, new set. Of course, most of our customers are very much between the two extremes, and the one thing I try never to do is make anyone feel there is a right or wrong way. So, very tentatively, I offer ideas, possibilities – dreams!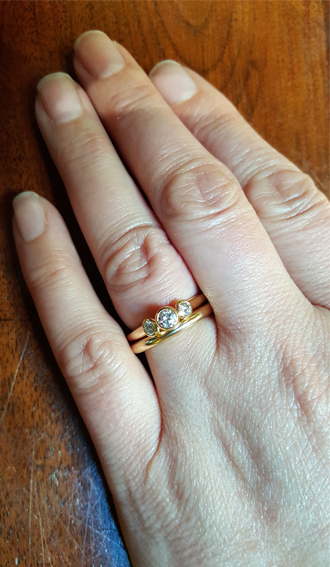 Francis, happy to be re-united with her diamonds, after having her engagement and wedding ring remodelled.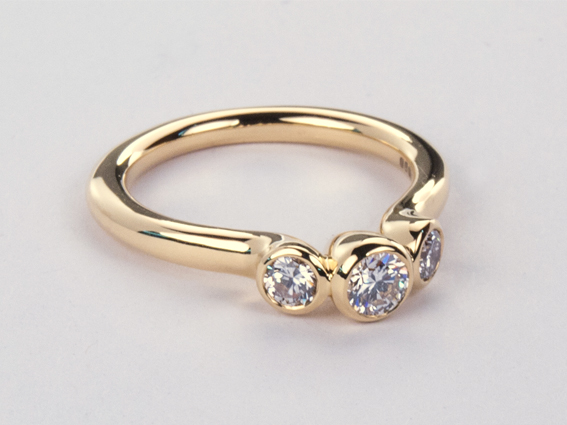 I think, for many women, their situation falls into one of a few categories. For some, they got married when their careers or finances were in a wildly different place, so the choices open to them, then, were far more modest than they would make now. This often sits alongside a feeling that what was on offer in terms of style was, equally, not what they would now choose. Although jewellery fashion moves a lot slower than its younger, blowsier cousin – the clothing industry, there are some design periods that I think even the Vintage movement would struggle to resurrect. Of course, alongside these scenarios, there is also the more obvious one – of broken or worn-out rings, or ones that no longer fit – adding to the movement to trade up.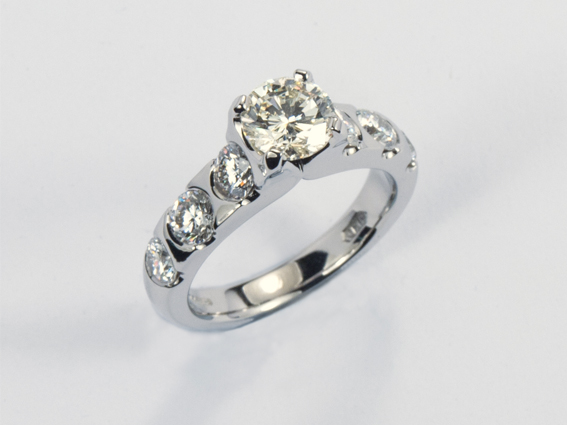 Jane opted for combining all her stones, into one fantastic ring - it was just what she wanted now, no fuss, just one easy to wear ring. (More on Jane's ring to follow in another post about the process)
However, I think the most hard-done-by group are those women who never even got an engagement ring, and I am embarrassed to say that my wife is amongst them. It was her own fault, though, for being too easy-going. You see, I had already given her a diamond ring – handmade by me, of course, in the days before casting and CAD and new technology. In the very early days, she was helping me out at a craft fair, and fell in love with this ring. She was shocked at the end, when we were packing away, when I just handed it to her and said it was hers. Now, let's analyse that situation – firstly she had earned something for spending part of her valuable weekend at a craft fair. Secondly, I knew that we were good together – it felt right. Thirdly, I'm not stupid – I waited till the end of the fair - I might have sold it!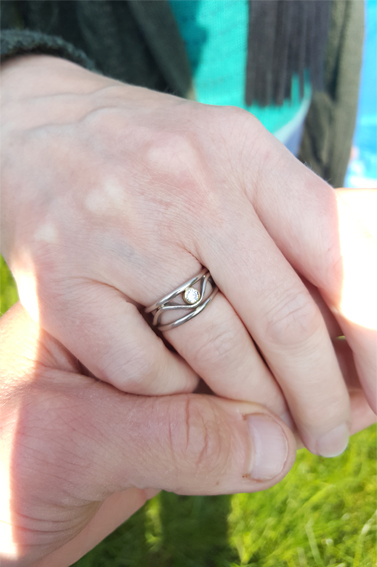 Stefanie, my wife, with her original diamond ring.
After a fair few years together, our marriage came swiftly, when she became pregnant, by – surprise? Mistake, wonderfulness?! You know how these things work! So an 'engagement' period just never happened, and she, like many other women, ended up with no 'official' engagement ring – due to circumstance, to choices, or to skint-ness!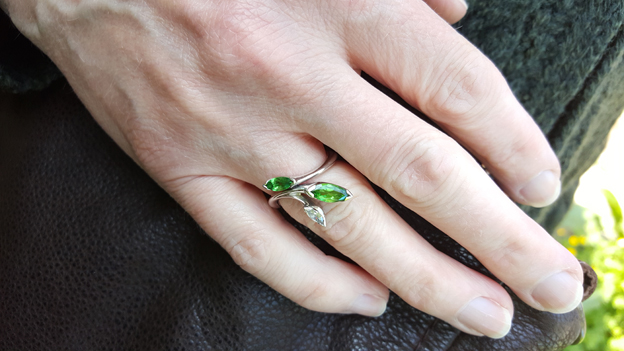 I have to say that the women who haven't started out with an engagement ring, for whatever reason, really glow when they finally find something they love. I still remember Stef's face, and the tears, when I gave her a beautiful tsavorite garnet floral ring. Still technically not an engagement ring - possibly I still owe her that... along with a honeymoon...!
Jon