Posted by Tessa Marshall - 14 September 2017
Fair Luxury Exhibition – Ethical Luxury is Here to Stay
We are very excited that Jon's jewellery has been selected to be part of the very first 'Fair Luxury Presents' exhibition at the Goldsmiths' Centre during the London Design Festival.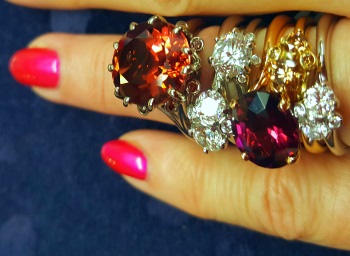 We are sending these 6 Fairtrade Gold and Recycled Platinum rings to showcase responsibly sourced jewellery.  Casting a fresh light on what terms such as 'ethical luxury' can mean, this exhibition will tell the story from source to beautifully crafted object.  It will champion makers for whom transparency and sustainability are as important as craftsmanship and design.  A subject very close to Jon's heart.
A selection of photographs taken by Magnum Photos photographer Ian Berry will also be on show, tracing the journey of gold from Fairtrade mines to UK jewellery workshops. Jon was one of the jewellers chosen to be a subject in this project.
Entry to Fair Luxury Presents is free, so whether you are looking to learn more about responsible sourcing, want to commission a bespoke jewellery piece or are looking to feast your eyes on beautiful jewellery – please feel free to come along and enjoy work by new and established makers, who are redefining luxury.
Location: Atrium, The Goldsmiths' Centre, 42 Britton Street, London EC1M 5AD
Date: 18th September to 27th October
Opening Hours: Mon – Fri, 9am – 6pm,
Free Entry