Posted by Rachel - 15 February 2013
After the gold rush
I am sure most of you are aware of the incredible price increases we've seen with both precious metals and precious stones. The financial pages of the press have dined out on the highs of gold, increasing in value up to 500% in the past decade; platinum by 150%; and diamond prices increasing steadily year on year. Some of the sharpest hikes in all areas have been quite recent.
So it's quite easy to believe that many of you who own a piece by Jon Dibben could be considerably underinsured. This becomes slightly more worrying when you bear in mind that the insurance company places all the emphasis on you, the owner, to have your pieces regularly checked, for security of stones, wear and tear, and current value.
In our experience, in the event of a claim, if your piece has an undervalued valuation certificate, at best they will only pay you that value. At worst, your claim may be deemed as invalid and you would receive nothing – though thankfully we've not seen this recently.
Likewise, if the item's value was originally under your single item limit but is now over, and you haven't told your insurers, there is again a possibility that they will pay you nothing. We have experienced this situation with a number of clients, specifically those owning gold jewellery made several years ago.


The fight for a genuine replacement
And now I really get a chance to rant! So forgive me if you've already been caught by me in the shop, because it does make me angry. On top of the distress of losing a loved piece of our jewellery, many clients then face a real battle with their insurers, to get it replaced, in its original form, by us.
Now, to be fair, I can't put all the blame on the insurance companies; many of us have enthusiastically bought in to cheap contents insurance. Fierce competition between insurers has driven premiums down, with the result that you pay for those low prices when you need to claim.
Unfortunately it's becoming commonplace for us to be approached by terrier-like loss adjustors who are unwilling to pay us to replace our own work, as we are unable to agree to their extreme discounts. The pressure is then on you to have your handmade piece replaced with mass-produced, generic jewellery, with margins that enable them to get that discount.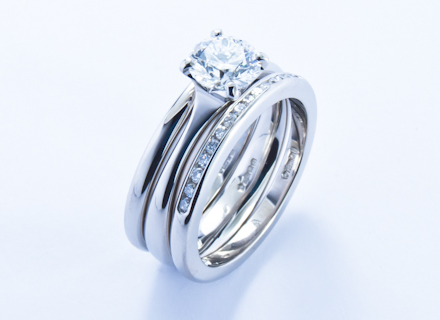 Read the small print
Most people who are willing to fight usually win, and I am pleased to say that most of our clients are fighters! But with busy lives, some give up after the third or fourth letter or phone call, which often seems what the insurance companies rely on.
In the extreme situation that you and your insurers can't come to an agreement, you can complain to the Financial Ombudsmen. In most cases, where the policy states 'old for new' they seem to come down on the side of reason, advising that if a piece has been handmade by a particular jewellers or designer, it should be replaced by them.
However, check your policy, as some insurers have changed the traditional 'old for new' to read 'replace with something similar', allowing for much more ambiguity in this kind of situation. 
In general, my advice to you is to read the small print and, if in any doubt, talk to your insurers and ask the questions, but please do contact us if you want any extra guidance.


There is another way
Many of our clients are insured through brokers or by companies that charge higher premiums, but offer superb customer service when things go wrong.
Although we don't endorse any particular company, in our experience, Hiscox has always been a dream to work with: their overriding concern being that the customer gets their original item replaced.
Also, T H March, who started as insurers to the trade, and who insure us as a business, now deal directly with private individuals, and again have no desire to make things difficult for their clients when replacing lost items.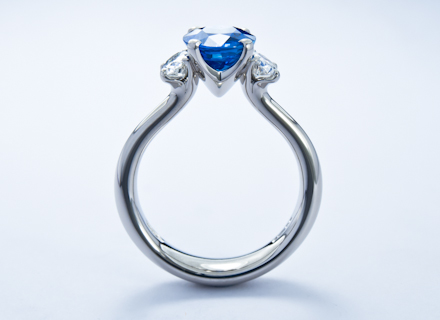 The Offer – here's where we can help…
We already offer an Insurance Valuation document, which gives an up-to-date replacement value. This is complimentary when you purchase a piece of jewellery from us that has a value over your single item limit.
We will then update the document for a flat fee of £55 per item. This figure can be reduced for multiple items, once we know what they are and how much time will be needed collectively for research and administration.
The nature of the stones we source and use in our jewellery means we sometimes need a little time to give accurate and reliable replacement figures to you. 
In addition to this, and after a little feedback from you, we've put together a couple of 'packages' that will hopefully give you a little more peace of mind.
Clean, basic polish, setting check and valuation  £130
Bring in your piece, and we will give it a thorough check for damage and make sure stone settings are secure. We will give it a clean, a basic polish, and supply you with an up-to-date insurance valuation.
Clean, 'back-to-new' polish, setting check, valuation and photograph  £240
As above, but your piece will be filed and polished by hand to remove scratches and, where practical, be returned to an 'as new' condition. We will also take a photograph of your item to accompany your valuation. 
Please note:
When we make an item of jewellery we produce an in-depth breakdown of every aspect of the process. This is kept securely on file, to enable us to provide an extremely accurate valuation figure for future updates or insurance claims.
If you are in any doubt as to whether you are underinsured, contact us with as many details about your pieces as possible (i.e. reference numbers from previous valuations or receipts) and we will advise you accordingly.
To help us manage workflow through the workshop, we are booking-in a limited number of pieces each week, on a first come, first served basis. We are sorry but this offer only applies to jewellery purchased from us. 
Please contact us if you need any further information.